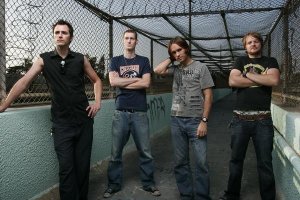 Allister have announced that at least for the time-being, the band is seperating:

Before we left for this last Japanese tour in October, Tim got the news that he was going to become a father. We had the whole 3 months in Japan to discuss what would become of Allister, and in the end Tim made the responsible decision to start a job that wouldn't take him out of the country for months at a time. He wanted to be home with his girlfriend during the pregnancy, and throughout the upbringing of their child. We had already confirmed a Japanese tour for March, and since Tim has already entered the work force, we have asked his brother Chris to join us overseas.

We will be booking a show in Chicago, which for all intents and purposes will be billed as our last show. I'll post the info when it comes.

Allister has been trucking along for a good 10 years now, and in that time we've been fortunate enough to travel around the world playing music that we love. We've met so many amazing people, and I feel really fortunate to have been a part of this band… Before I get too sappy, I just want to say thanks to everyone who supported us over the years. Who knows what the future will hold, but for the time being this is just the beginning of a new chapter…
The band celebrated their 10th anniversary together last year and released a number of albums including Last Stop Suburbia in 2002 and Before the Blackout in 2005.