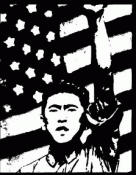 Asian Man Records has announced the track listing for the second Plea for Peace compilation. Due out in April, the disc benefits the foundation of the same name.
The disc features 52 songs from acts like Big D and the Kids Table, Cursive, Alkaline Trio, Samiam, Throwdown, Dead To Me, Rx Bandits, Tim Barry, The Aggrolites and many more. Label boss and Plea for Peace organizer Mike Park also contributes a song.
The first edition of the compilation, Plea For Peace/Take Action, was released back in 2001. A corresponding tour took place the same year.
Disc 1:
Chuck Ragan - "for Broken Ears"
The Lillingtons - "All I Hear Is Static"
Alkaline Trio - "Cringe"
Youth Brigade - "Alright Then"
Dead to Me - "by the Throat"
Tim Barry - "Shoulda Oughta"
Rx Bandits - "Tainted Wheat"
The Dwarves - "Salt Lake City"
The Falcon - "Blackout"
Akiakane - "Uncle Sam"
The Aggrolites - "Mr. Misery"
Planes Mistaken for Stars - "Never Felt Prettier"
The Singularity - "Leigh and Stokes"
No Torso - "Fight the Blue Horizon"
Whale/Horse - "Chinese Lightening"
Pansy Division - "Musclehead"
Smoke Or Fire - "the Patty Hearst Syndrome"
The Bouncing Souls - "the Gold Song"
Bleeding Through - "Love In Slow Motion"
The a.K.a.S - "Confessions of a Dangerous Mouth"
Desa - "Daydreaming of Rescue"
Cave In - "Dead Already (Live)"
Anti-Flag - "Their System Doesn't Work for You"
Sundowner - "Steal Your Words"
The Queers - "Houston We Have a Problem"
Disc 2:
Filthy Thieving Bastards - "Daly City Train"
Toys That Kill - "Bomb Sniffing Dogs"
Andrew Jackson Jihad - "No More Tears"
Shinobu - "Teachers Get Tired"
Jawbreaker - "Do You Still Hate Me (Live)"
The Briefs - "No More Presidents"
Mike Hale - "Leatherface Fan"
Fifth Hour Hero - "Faint and Fading Out"
Drag the River - "Me & Joe Drove Out to California"
The Methadones - "Less Than Zero"
Nofx - "100 Times Fuckeder"
The Draft - "Devil In the Shade"
Big D and the Kids Table - "Try Out Your Voice"
The Sainte Catherines - "Ring of Fire=4 Points"
Cursive - "Bad Sects"
Western Addiction - "Mailer, Meet Jim"
Throwdown - "Burn"
The Debonaires - "See You Again"
Heavens - "Patent Pending"
Sandtrappers - "No, Dead People"
A Papier MacHe Monster - "Death to Order"
Love Equals Death - "Plastico Americano"
Darkest Hour - "With Friends Like These"
Samiam - "Are You Alright?"
Dan Andriano - "Way Too Many Times"
The Peacocks - "We've All Seen Better Days"
Mike Park - "Roger Staubach Plays the Lead"