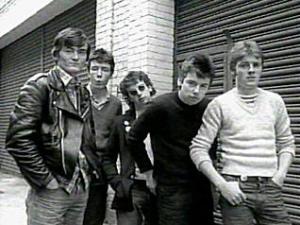 The Undertones have announced the completion of their new album. The group, who claimed the late John Peel among their devoted fans, had this to say:

We've been in Blast Furnace recording studios for the past two months, only coming out for some sunlight, to fight off our vitamin D deficiency.

We have been working on the record though, and, if I say so myself, it's really good. Thirteen songs, short and sweet, all we need now is a title and artwork - although in my mind, it's done and dusted.
The band has released many albums since forming in the 70s but are best known for their 1979 full length, The Undertones and it's ubiquitous single, "Teenage Kicks." The group originally split in 1983, reuniting in 1999 without original vocalist Feargal Sharkey. Paul McLoone has sung for the group since the reunion.