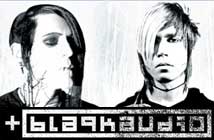 Blaqk Audio, the the AFI side project first announced in 2003, has posted its first new song. The project was originally formed by Davey Havok and Jade Puget as a way to explore more electronic ideas.
You can check out "Bitter For Sweet" on their myspace page.
AFI released Decemberunderground last year.