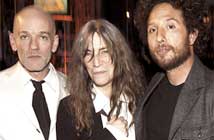 AOL is hosting a full video feature on last night's inductions into the Rock'n'Roll Hall of Fame. Of particular note is Zach de la Rocha of Rage Against The Machine who, in a rare public appearance, delivers a passionate introduction for the legendary Patti Smith. In the speech, Zach eloquently talks about Patti but also describes the musical climate, touching on revolutionary art, punk and religion. He talks about the Bad Brains, The Clash, beatnik poetry and much more.
In addition, there are live performances with Patti Smith performing her songs "Gimme Shelter," "Because The Night," and "Rock'n'Roll Nigger." Her set wraps up with her fronting REM and performing the The Stooges classic, "I Wanna Be Your Dog."
You can check out the entire presentation, which also includes Grandmaster Flash, Van Halen, REM and others, right here.