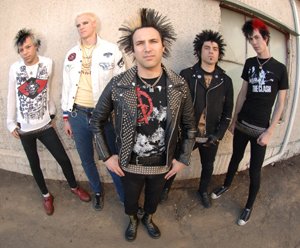 Cheap Sex has announced that they are breaking up after the tragic death of their guitarist, Chris Wick. The band issued this statement from their Myspace profile:

On March 1 Cheap Sex lost somebody who was very important to us. Chris Wick our guitarist on our second album - 'Headed For A Breakdown' hung himself after struggling with heroin addiction for the past couple years after the death of his mother three years ago. Chris was a great friend and an absolutely amazing talent and will be forever missed.

The band feels like at this time we are at a crossroads with the loss Chris and our drummer Gabe in particular who was his best friend wants time to deal with Chris's death. Therefore I am sad to say that Cheap Sex will be breaking up and we will be announcing a final show shortly.
The other members of the band are hoping to continue performing though under a new name with new material. They are asking interested drummers to get in touch with them.
The band released Written in Blood last year.