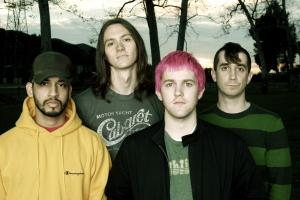 Saves The Day has announced that they will be releasing a new album this year. Apparently unwilling to allow another three years to pass between records, the band has announced that the follow up to 2006's Sound the Alarm will be released this fall and be titled Under The Boards.
After wrapping up their upcoming tour with Say Anything, the band will be jetting straight to their studio, Electric Ladybug, to record thirteen songs for their sixth full-length studio album.
Saves The Day have also launched a new website that is maintained and updated exclusively by the band. It can be found here. The site contains photos, fan art, Saves The Day tattoos, a blog (both written and video), and a feature where singer Chris Conley takes fans' song requests via email and then posts a video of him performing an acoustic version the song.