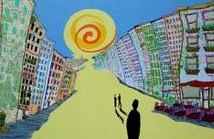 Greg Attonito, frontman of beloved New Jersey punk rock act Bouncing Souls has launched his new solo project. Greg explained the project simply:

For the past few years i have been experimenting with recording. I'm finally motivated to tackle this myspace world and share some of my creations..Here We Go!
Besides the music, Greg also has posted a number of paintings that he has worked on. He explains that they are part of a project he has been working on with Shanti Wintergate. You can find those as well as four of his songs on his myspace page.