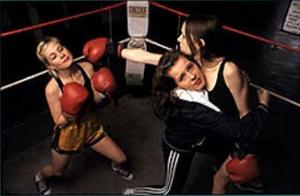 On April 3rd Vancouver's Mint Records will reissue records from Cub and Maow.
For Cub, the Lisa Marr led twee pop / cuddlecore three piece, the label is giving a second life to 1993's EP collection Betti-Cola and the `94 full length Come Out Come Out. The former will be expanded with tracks compiled form the band's 7"s, including "Chico", "Sweet Pea", "Summer Samba," and "Hello Kitty."
Pop punk act Maow will see 1996's The Unforgiving Sounds of Maow reissued. The album has been a sought after item due to the band's drummer, one Neko Case who of course went on to launch a very successful alt-country solo career and serve as a prominent member of supergroup the New Pornographers. Case in fact drummed for Cub for a period early in their career as well.
Cub - Betti-Cola
Go Fish
What the Water Gave Me
Motel 6
A Party
Flying Carpet
My Chinchilla
Electrick Chair
Nicolas Bragg
Pretty Pictures
They Don't
A Picnic
It's True
Someday
Cast a Shadow
The Day We Met
Surfer Girl
Little Star
My Assassin
Tell Me Now
Lucky 7
Through My Hoop
Leap Frog
Backwoods
What the Water Gave Me
Chico
Sweet Pea
Summer Samba
Hello Kitty
Cub - Come Out Come Out
Ticket to Spain
Everything's Geometry
My Flaming Red Bobsled
Isabelle
Your Bed
Tomorrow Go Away
Life of Crime
I'm Your Angel
Por Favor
New York City
Voracious
So Far Apart
Vacation
Maow - The Unforgiving Sounds of…
Wank
Mean Mean Mean
Sucker
Ms. Lefevre
Rock 'N' Roll Boy
Very Missionary
Mommie's Drunk
Woman's Scorn
Showpie
J'Ai Faim
Man What's Got a Gun
How Does That Grab You, Darlin'?
Party Tonite
Cat's Neow
One Nite Stand
Catastrophie