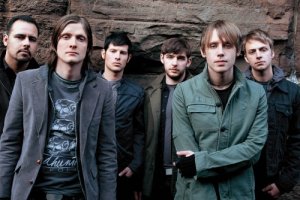 Thursday have announced that they've cancelled the remainder of their touring plans for 2007:

Due to circumstances beyond our control, we will be canceling all of the current tour plans for 2007. This includes Give It a Name in Europe, our slot on the My Chemical Romance tour in Canada and our shows in Mexico. We sincerely regret any inconvenience this may cause and we're disappointed that we won't be seeing the people and places that we were looking forward to. We will be playing one of the shows we had planned, May 7 in California, PA.
The band also noted, "we will be devoting all of our time and energy this year to the future of our band. We recently got a second chance to start this band over fresh and we don't plan on wasting that chance. New music. New Records. New Labels. New Energy. This is what we've been dreaming about."
The band released A City by the Light Divided through Island last year.