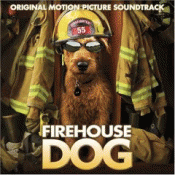 Hellcat Records upstarts Left Alone have been included on the soundtrack to the new 20th Century Fox film, Firehouse Dog. According to the soundtrack listing on Amazon, the track appears to be one of only three actual songs on the compilation, the rest of the material being the actual movie score. The movie follows the story of Rexxx, Hollywood's top canine star, who gets lost and is adopted into a dysfunctional firehouse. The dog meets up with a young kid, and togther they bring order back to the firehouse.
The band recently commented about the song on a MySpace blog:

Guys we have scored a song for the movie FIREHOUSE DOG (20th Century Fox) soundtrack we recorded a cover of the classic "I Fought The Law"!!! This Song will only be available on this soundtrack so find it and grab a copy. Its a VERY raw and straight up punk version, that's the only way we would deliver something to a major no leads and no over produced junk just balls!!! This also marks the first of many recordings we will do with bang bang drummer extraordinaire Billy the Kid. We will post the video of the recording soon!
"I Fought the Law" was originally recorded by Sonny Curtis, however, it was popularized by the likes of the Bobby Fuller Four and the Clash. Last year, Left Alone released their sophmore effort Dead American Radio.