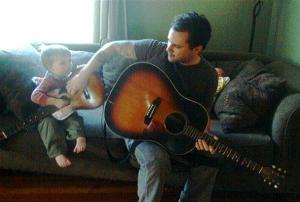 We're all pretty stoked to bring you the stream of Matt Pryor's newest, cuddliest creation, the Terrible Twos. Named after the more obnoxious stages of a person's life, Pryor's singalongs and lullabies are the cure for what ails the aging punk rocker in all of us (if we're lucky enough to have spawned). The album comes out today via Paquito Records / Vagrant.
Stream If You Ever See An Owl… at the Terrible Twos' band profile.
We've got a ton of music coming soon including streams from Tomorrow the Gallows, Nikola Sarcevic (Millencolin), Die Hoffnung and The Automatic.