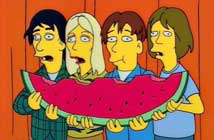 Sonic Youth has revealed details about a planned reissue of their classic album, Daydream Nation. According to Billboard reports, the expanded disc - which follows expanded reissues of Goo and Dirty - will feature bonus tracks and rare photos and will also be available as a four-LP set on the bands own Goofin' Records label.
Due out on June 12, 2007 as a double CD, the package will include original album on the first disc, a home demo of "Eric's Trip" and live renditions of every track on the studio release, captured at such venues as New York's CBGB and Amsterdam's Paradiso.
Rounding out the second disc are four covers: the Beatles' "Within You Without You" from the tribute album Sgt. Pepper Knew My Father, Neil Young's "Computer Age" from The Bridge, Captain Beefheart's "Electricity" from Fast and Bulbous and Mudhoney's "Touch Me, I'm Sick."