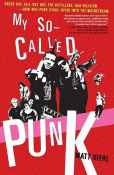 This week, a new book called My So-Called Punk will be released. The book attempts to document the "neo-punk" movement, which refers to modern punk rock like Green Day, Fall Out Boy, The Distillers, Bad Religion, Dropkick Murphys and more.
Subtitled How Neo-Punk Stage-Dived into the Mainstream, the book by Matt Diehl promises interviews with Fall Out Boy, Dropkick Murphys, Kevin Lyman of Warped, the Distillers, Dashboard Confessional, Brett Gurewitz of Bad Religion/Epitaph, Simple Plan, Bouncing Souls, the Bronx, Suicide Girls, Fat Mike of NoFX, the Explosion, The Used, Yellowcard, Offspring, and so many more.
The book examines issues like "Mall Punk," the collision of corporate sponsorship and punk at events like the Warped Tour and the politics of punk in the mainstream era.
For some more information on the contents, you can click Read More.
MY SO-CALLED PUNK: Green Day, Fall Out Boy, The Distillers, Bad Religion-How Neo-Punk Stage-Dived into the Mainstream by Matt Diehl
Publication Date: April 17, 2007
"Punk rock: it's all about life or death, death or glory, but this time around, punk was not the same old story. Or was it? This was not my so-called punk anymore." --Matt Diehl, from My So-Called Punk
"An essential part of the story of an ongoing movement…" --Booklist
"In this energetic survey of current trends in punk rock, journalist and music critic Diehl delivers a knowledgeable and sympathetic overview…He keenly reports on how the age-old conflict between authenticity and commercial success has become key issue in all parts of the neo-punk scene…" --Publishers Weekly
From its inception, punk was an underground revolution that raged against the mainstream. It expressed an unflinching need for self-expression and a passionate defense of individualism. Now punk is the mainstream: punk bands today sign with major labels, win Grammy awards, and receive corporate sponsorship all while sporting tattoos and Mohawks. What is the new punk? Does punk today prove a shock to the system, or did the system win in the end?
In MY SO-CALLED PUNK: Green Day, Fall Out Boy, The Distillers, Bad Religion-How Neo-Punk Stage-Dived into the Mainstream (St. Martin's Griffin; Trade Paperback Original; April 2007; $14.95; 256 pages; 0-312-33781-7), acclaimed author/journalist Matt Diehl traces the history of punks' movement into mainstream culture. From the story behind multi-Grammy winning band Green Day's success, to Offspring's multi-platinum move from a respected indie label to the majors, to the recent commercial success of "emo" bands like Fall Out Boy, Diehl follows the history and controversy behind music's new punk. In MY SO-CALLED PUNK, Matt Diehl examines:
Neo-punk's beginnings via legends like Bad Religion, Green Day, Operation Ivy, and Rancid
Why Green Day's friendly, bruised, yet humorous pop punk proved a welcoming call
to all like-minded outcasts-resulting in millions of records sold
Mall punk: the emergence of teenster bands like Blink-182 and Good Charlotte
An in-depth look at The Distillers' controversial lead vocalist Brody Dalle-why divorce turned the punk scene against her amid accusations of being a Courtney Love clone
The Warped Tour and corporate sponsorship-who's in control? Did success mean selling out as neo-punk turned into big business?
A music revolution rooted in rebellion-the role of politics, religion, sexuality, and race in the pop-punk era
MY SO-CALLED PUNK picks up where bestselling authors Legs McNeil and Jon Savage left off, defining the sound of today's punk, telling the stories behind the bands that have brought punk to the masses and discussing the controversy that persists today.
ABOUT THE AUTHOR Matt Diehl is an author and journalist whose work has appeared in Rolling Stone, The New York Times, The Washington Post, GQ, VIBE, Spin, The Village Voice, ARTnews, Blender and many other publications. He served as the music columnist for Elle for four years and now serves as Contributing Music Editor for Interview. Matt has appeared as a music expert on MTV and co-produced/wrote the acclaimed 5-part television series on VH1, The 70s. His books include No-Fall Snowboarding and Notorious C.O.P. Matt currently lives in Los Angeles, California and is available for interviews.