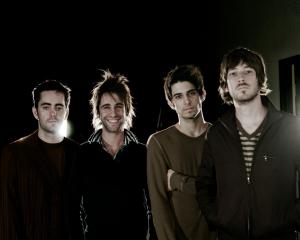 Typing their name may make you thankful for cut-and-paste, but it certainly hasn't hindered Mêlée. After the release of their 2004 full length debut, Everyday Behavior, the band was snapped up by Warner Bros and entered the studio with producer Howard Benson to record their major label debut, Devils and Angels.
I had a short conversation with the band and we talked about the record, Hall & Oates and their plans for the future.
You guys seem to have moved very quickly, from a well-received album on Hopeless/Subcity to recording a major label debut with a big producer… has it been as fast as it seems? How do you feel about it?
It definitely has not been as fast as it seems. We spent a year negotiating our deal with WB and Subcity, toured for about a year and a half and spent about a year writing and recording the new album. So there have been lots of emotions and craziness all in between, which makes it seems like the longest period of time. Either way, we couldn't be more excited for where were at, at this point in time. I feel good about the spot we're at now, the time and experiences we've gone through has helped us grow individually and collectively as a band, which is something we needed to make the record we did.
That's a big reason why I love Third Eye Blind. Their music is so upbeat but when you listen to the lyrics, they're singing about drugs, suicide and sex.
On that note, Chris and Ricky have been writing together for eight years from what I understand. How does that dynamic work?
It's the cliché dynamic of yin and yang. We're almost polar opposite of one another, which obviously brings out the songs we have. We both write music and lyrics, and most of the time have a different vision of how a song should end up. But I feel if we were both on the same page, we wouldn't have the sound we have.
Why did you guys pick "Hall & Oates" to cover, seems like an unusual choice…
We didn't pick it. It was a song our label and publishing were stoked on to have for a soundtrack, which we thought was a great idea. It ended up sounding great, and now its on the album.
There was a bit of a ska influence on "Everyday Behavior" but it's pretty toned down on the new one; any reason for that?
On this album no one was really listening to ska, so it didn't appear as an influence on this album.
What do you think the strangest fact about your band would be?
The strangest thing might be that we drink and party as much as we do. That seems to be underrated when people think of Melee.
With your new album finally coming out and the inevitable tours to follow, any people on your wish list for support/headlining?
We'd love to go out with Maroon 5.
You've written songs about Katrina, and the effects of mental illness, and they seem somewhat at odds with your more upbeat sound. How do you feel about combining such difficult subject matter with your music?
I think its a good way of getting across something serious with out turning people off. It makes things a little bit easier to digest. That's a big reason why I love Third Eye Blind. Their music is so upbeat but when you listen to the lyrics, they're singing about drugs, suicide and sex.
What are your hopes for the new record?
We hope for as many people possible to hear it, and hopefully just walk away with relating to the music and lyrics.
How would you compare your evolution as a band from the last album to this one? What can we expect from your new material?
We've definitely grown into our adult skin on this album. It's a philosophical album, one where we ask a lot of questions, and wonder why the world is the way it is. Our eyes have been opened, and we've turned our experiences into songs, so hopefully people feeling and thinking the same things as us, can relate.
You can expect more thought out, genuine, honest lyrics and more rhythmic music.
Finally, what do you have planned for the coming year?
Lots and lots and lots of touring….getting our name and music out there. That's the plan.