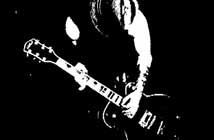 It's Tuesday, and that means Epitaph has released another new from Tim Armstrong's A Poet's Life. The label is now promising a new track and video each Tuesday "somewhere" on the internet.
You can find "Lady Demeter" via Tim's collaborators in Aggrolites. "Lady Demeter" can be found on their myspace page.
A video for the song can be found here.
A Poet's Life and is due out on CD+DVD May 22, 2007.