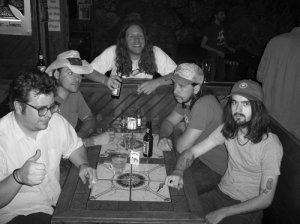 After a tense tour opening for Rocky Votalato that saw singer/songwriter/guitarist Jon Snodgrass drop off mid-tour, the future of Drag The River has been addressed in a statement by Snodgrass, released through the Suburban Home Records mailing list.

I know you've all been curious and it's not the best…but not the worst news. Drag the River for now and perhaps forever is over. Chad and I are still buddies. That was never the issue. We do have different releases including that DVD to finish and will work on those together but we won't be touring. Sorry.
The former Armchair Martian frontman also confirmed a reunion tour will take place this summer/fall:

The Aug./Sept. Armchair Martian tour that had been suggested will now actually happen. The "Good Guys, Bad Band" retrospective and the "Who Wants to Play Bass?" re-release will surface simultaneously from Suburban Home Records/Mars Motors.
Drag The River recently saw the last of their first three albums re-issued by Suburban Home.