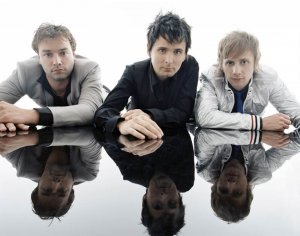 According to a post on their website, My Chemical Romance and Muse have canceled dates on their tour together due to food poisoning:

The nationwide tour was brought to a standstill on Sunday when several members of My Chemical Romance's band and crew and members of Muse's crew became violently ill after the show at William and Mary College in Williamsburg, VA.

With multiple people scattered in hospitals between State College, PA and Columbus, OH, the bands were forced to cancel Sunday night's show at the Bryce Jordan Center in State College, PA and postpone the show in Columbus, OH from Tuesday, May 1st to Wednesday, May 2nd, provided everyone has recovered. The show originally scheduled for tomorrow night at the Petersen Events Center in Pittsburgh, PA has been canceled.
The bands are hoping to resume the tour as soon as possible. Tickets for the canceled dates are available from the point of purchase.