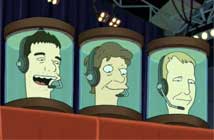 The Beastie Boys have detailed their upcoming new album. The record is titled The Mix-Up and is due out June 26, 2007. As reported earlier, the record will be sample-free. But that's not the only thing that will be missing from the record, apparently there will be no vocals either.
The Mix-Up will feature the band back on drums, guitar and bass, with assistance from Keyboardist Money Mark and percussionist Alfredo Ortiz. The band is promising 12 brand new wordless, sample-less, scratchless originals. While The In Sound From Way Out was instrumental, it was largely composed of cuts from Check Your Head and Ill Communication, and Mike Diamond recently discussed the influences on the new material:

But as different as [it] might be from To the 5 Boroughs, it's equally different from instrumental songs we've done before, like the ones that were on The In Sound From Way Out! That was kind of one direction and this one [has] different influences, like Public Image Ltd., Gang of Four, the Slits, Killing Joke.
The trio has not released new studio material since 2004's To The 5 Boroughs but in the interim released both their second hits compilation, Solid Gold Hits and the guerilla-filmmaker style live DVD, Awesome: I Fuckin' Shot That! DVD.
B For My Name
14th St. Break
Suco De Tangerina
The Gala Event
Electric Worm
Freaky Hijiki
Off The Grid
The Rat Cage
The Melee
Dramastically Different *
The Cousin Of Death
The Kangaroo Rat
* - that's not a typo.