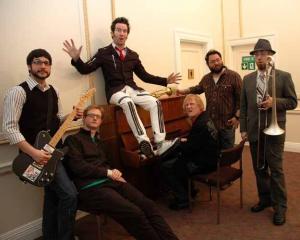 Reel Big Fish has announced plans to release a new full length this summer. The record is titled Monkeys for Nothin' and the Chimps for Free and is due out July 10, 2007 via Rock Ridge Music. It is the band's first full length since they left their major label home, and is the follow-up to Our Live Album Is Better Than Your Live Album which was released in 2006.
The band added:

The new disc will feature 17 soon soon to be classic Reel Big Fish songs. Its everything you ever wanted, needed and never expected from Reel Big Fish.

Emancipated from their major label hell, the boys in Reel Big Fish are excited to be making music on their terms and are even more elated to take their new batch of uproarious songs directly to their fans.
The band will be supporting the record with a co-headlining tour featuring Less Than Jake.