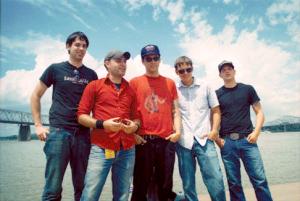 The Jazz June are playing yet another show in support of their friend and former roadie Adam Gerhart. Moving from Philly, the band will be playing Ralph's Chadwick Square Diner in Worcester, Massachusetts on Saturday, June 16, 2007. Joining them will be Clawjob, New Idea Society, Quiet Life and Tristan da Cunha.
The band has played two reunion shows this year in support of Gerhart, who was diagnosed with brain cancer in October of 2006 and subsequently had the tumor removed. For more information on Adam's condition as well as ways you can help, check out AdamFund.org.
The band originally formed in 1996 and released a number of records including 2001's They Love Those Who Make The Music and their final record, 2002's Better Off Without Air. You can check out an interview with the band, as performed by our friends at the defunct Punkrocks.net, right here.