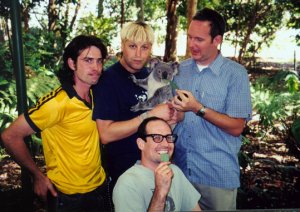 Nerf Herder has wrapped up work on a new album. The band had been on an extended break, but announced the news today:

Parry, Steve & Charlie just finished up recording a new Nerf Herder album! Can you believe it???…We sure can't! The release date is still unknown. Here are the 13 new titles, with sample lyrics. Some of these won't make it on the album…don't know which ones yet.
The band released their last full length, American Cheese, in 2002. It was followed with a reissue of their 2000 EP My EP.
Oh Me, Oh My - "Goodness gravy, great caesar's ghost."
High School Reunion - "Who's that wearing the cheap-ass toupee?"
(Stand By Your) Manatee - "I'm fat and slimy and brown."
WTC#7 - "I've got aluminum foil around my head."
Dianalee - "Randy Gulbransen was kind of funny."
Golfshirt (part 2) - "I'm watching you flossin' on your teeth"
I'm Not A Loser - "All those dick-head teachers (like Mr. Larsen) can kiss my ass."
Led Zeppelin Rules - "The guitar players' tone sounds like a Commodore 64."
Crocodile - "I've never kissed a girl with braces before."
Dance - "I nearly thought that I'd wet my pants."
Garage Sale - "A statuette of a dragon, clutching a crystal orb."
Affirmative Action - "4-3-2-1, I want to bop you with my baloney gun."
Backpack - "You're a stupid-ass backpack copying freak!"