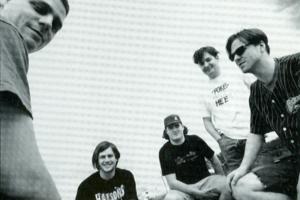 Seaweed has announced plans for a reunion show, and a new record:

All rumors are true. Seaweed is getting it together to do a reunion show at Bumbershoot, Seattle's greatest music festival. Date/place/time is September 2 at the EMP Sky Church-9:30 PM.

The band is shockingly thrilled to get back together and play in front of our friends and fans once again. All members have returned except they are now playing with long-time friend Jesse Fox of Polecat and Leuko, two excellent NW bands.

Also Jesse and I are working hard on new tracks as well in a shack in South Tacoma--demos should be complete by the end of summer.

The best Seaweed album is yet to come. Tentative title-Small Engine Repair.
The Tacoma, Washington-based band started out releasing material on their own Leopard Gecko imprint in 1989, before moving onto a vinyl single with K Records, signing to Sub Pop a few years later for their career building albums "Despised," "Weak," and "Four." Then Hollywood Records picked the band up in 1993 and released their largest album to date, 1995's "Spanaway," their bombastic major label offering. Lasting only 1 album on Hollywood, the band and label unhitched and Seaweed then moved back to the indies. Merge Records issued their final release in 1999, "Actions and Indications" turned into their swan song and the band split later the same year.