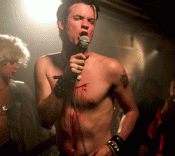 The Rhino Films production of What We Do Is Secret has wrapped up.
Director Rodger Grossman made the announcement:

I am excited to report that What We Do Is Secret is complete and will make it's world premiere in the dramatic competition at the Los Angeles Film Festival. I cannot think of a more appropriate or more exciting place to premiere this film.
A ticket page is available here and you can click Read More to check out a list of screenings.
The film aims to document the life and untimely death of Germs vocalist Darby Crash. While it does not cover his entire life, the movie focuses on Crash's "five-year plan" to become a legend before comitting suicide in 1980. To ensure that the film was true to the story, Director Roger Grossman enlisted the help ex-Germs guitarist Pat Smear, as well as members of Crash's family and others involved in the late '70s/early '80s Hollywood punk scene,
Playing Crash is actor Shane West who is best known from his role on ER. Rick Gonzalez will play Smear, and many other figures from the time will be included in the film, including Captain Sensible and Penelope Spheeris. Bands from the era are also represented in the film, with The Bronx filling in for legendary hardcore act Black Flag.
| | | | |
| --- | --- | --- | --- |
| June 23, 2007 | | 10:00pm | Mann Festival Theatre |
| June 25, 2007 | | 5:00pm | Mann Festival Theatre |
| June 27, 2007 | | 7:30pm | The Landmark Theater |