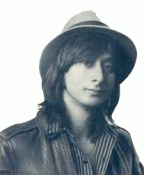 Looks like Journey is popping up in more places than just incredibly frustrating finales. The band's singer Steve Perry has apparently collaborated on some songs with Go Kart act Guff. Their label explained:

While Guff was in the studio, Steve Perry, the legendary lead singer of Journey, walked in to visit a friend. He was so impressed with Guff that he showed up unannounced two days later and asked Guff to cover an unreleased Journey song. Steve not only produced the song "I Can See It In Your Eyes" but also sang on it!
The cover will appear on the band's upcoming album. The record is titled Symphony Of Voices and is due out June 26, 2007.