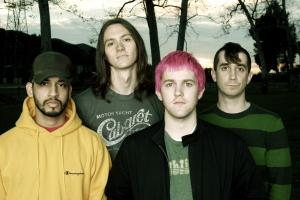 Saves The Day have entered the studio to record their recently announced new full-length. Apparently unwilling to allow another three years to pass between records, the band has announced that the followup to 2006's Sound the Alarm will be released this fall and be titled Under The Boards.
The band is co-producing the 13 songs with Marc Hudson and Eric Stenman at their studio in northern California. Under The Boards continues a story about self-discovery that began with last year's Sound The Alarm and will conclude with a third album, Daybreak, to be released next year. Says frontman Chris Conley: "Sound The Alarm is an expression of discontent. Under The Boards is reflection and remorse. Daybreak is acceptance."
Conley notes that parts of the album are darker than Sound The Alarm as it's the transitional chapter of the trilogy ("like The Empire Strikes Back"), but adds, "It's going to be an interesting listen. There are a lot of different moods in these songs." Says Soloway, "'Woe', is the heaviest song we've ever written and two of the songs, 'Get Fucked Up' and 'Can't Stay The Same', might be the most poppy tunes we've ever done.