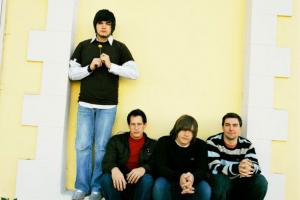 The Spill Canvas' Nick Thomas was nice enough to answer a few of my questions via email recently. We discussed his past past role in Nodes of Ranvier, Superman and caught up about their progress on their next full-length.
First off, would you state your name and what part you play in the Spill Canvas please?
My name is Nick Thomas, and I play guitar and sing in The Spill Canvas.
Did you begin playing in the Spill Canvas while you were still a member of Nodes of Ranvier?
Yes, I joined Nodes at the same time I was doing Spill. The Nodes dudes are such good friends and they needed help with another guitarist and Spill wasn't really doing much at the time, so it felt like a natural progression.
The Spill Canvas began as a solo acoustic project for you, correct? What was the deciding factor in adding a full band?
Yes, it began as a solo venture because it was so difficult to find musicians in my hometown (Sioux Falls, SD) that wanted to commit to what I was trying to do. It was always supposed to be a band, but just took a little longer to get there.
I've heard that a lot of bands look back at their first release as just sort of a stepping stone to get where they are now. Is "Sunsets and Car Crashes" still an album you are proud of and like to play live?
Well it certainly isn't the ideal image I want to paint of Spill, but it was something I did from 17 to 18, so for that I am proud of it. It's pretty fun to play some songs live because of the crowd reaction to certain tunes. But ultimately, The Spill Canvas is about something more than what Sunsets is.
The band contributed a track to the "Sound of Superman" album back in 2006? How did that come about? Are you guys big fans of Clark Kent?
Ha-yes we LOVE Clark, and after that song was written and then just seemed to fit perfectly with that compilation.
Is the band's most recent release, the "Denial Feels So Good" EP, a good indication of what's to come with the next full-length?
Yes and no. We are certainly exploring our harder rock side, because we like all kinds of music-but in the same respect, we have explored so many other sides of our ability, so it's really just a big buffet of musical treats.
Speaking of "Denial Feels So Good," what made you guys decide to cover Fleetwood Mac's "Gold Dust Woman?"
We LOVE Fleetwood Mac. They played music back when it mattered. Enough said.
Back to the new album, how's the progress?
Great, we are just now in the mixing process and we couldn't be more proud of it. I can't wait for people to hear it.
Was there anything you listened to during the writing process that was of any influence?
Honestly, there wasn't anything in particular because our influence spectrum is so insanely wide-but I personally listened to only older rock music and a lot of folky stuff.
Now, you guys leave for Warped Tour at the end of the month. Is this your first time playing the entire tour? Can fans expect to hear a lot of new music as well as some of the old?
Yes, we've never toured the entire thing before, so we are sooo pumped. Our warped set will consist of as much of the spectrum as possible in the 30 minutes we're allowed. So hopefully everyone will come out and have some fun with us!