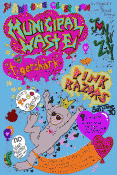 On June 30th, Richmond VA's Tigershark will be taking part in celebrating the life of their late drummer Jonny Z by playing one last show, as well as officially releasing their split 12" with ¡APESHIT! from Brooklyn, NY. A friend of the band will be filling in on drums for this one show.
Complimented with the cover artwork by local Richmond artist Kate Horne, this album will include 5 new songs from Tigershark, and 7 new songs from ¡APESHIT!. The album's first pressing will be on limited purple 12" vinyl, and is now available for pre-order from MolSook Records.
The show will run from 9pm to midnight at the Bike Lot in Richmond, VA and will also feature Pink Razors and Municipal Waste .