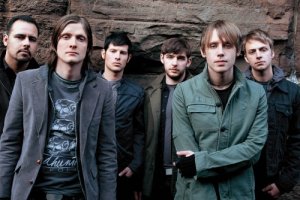 Thursday has announced that they'll be releasing a retrospective DVD/CD through their former label Victory Records. The band explains:

A lot of the footage from this DVD was taken during the time we spent on Victory and we thought it was appropriate to release it with them. On a more personal note, many of you know that our parting with Victory was bitter on both sides and we're taking this chance to put that behind us. That label really helped us get to where we are and we helped them to establish themselves as well… "coming full circle" and "making amends" are some of the phrases that we could throw around here but we think you get the picture already. Tony's passion for this project and his continued support of the band after all these years has helped to make this an easy decision.
The DVD will feature live footage from the past nine years, while the CD will feature several new tracks and alternate and demo versions of older songs.
After the completion of the DVD/CD, the band will begin work on their follow-up to last year's A City by the Light Divided.