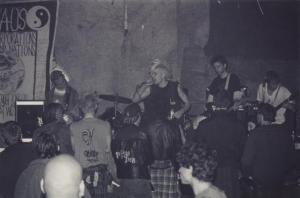 80s era East Bay punk band Christ On Parade is planning to reunite for two shows at the famous 924 Gilman venue in Berkley, CA. the band will play a show on July 27th supported by Final Conflict and others, following it with a second gig on the 28th with bands like Attitude Adjustment, Regan SS.
Christ On Parade formed in 1985 by ex members of Teenage Warning and Treason, comprised of vocalist Barrie Evans, guitarists Mike Scott and Noah Landis, bassist Malcolm Sherwood and drummer Todd Kramer. They released their debut Sounds of Nature that year. Members of the group lived in Easy Bay's storied New Method Warehouse and the group played shows with bands like Social Distortion, Subhumans, Agnostic Front, the Circle Jerks and Conflict. They disbanded in 1989, with Landis going on to join Neurosis and Evans forming psychobilly group the Hellbillys.
Sounds of Nature has been re-released soon with bonus material via Neurot Recordings. The new version of the record features two songs from Thrasher's now out-of-print Skate Rock Volume 3: Wild Riders of Boards cassette, the bands Isn't Life A Dream EP, and a previously unreleased cover of the Avengers' "The American in Me."
July 27, 2007 at 7pm with: FINAL CONFLICT (Long Beach), LOOK BACK AND LAUGH, BUMBKLAATT (MEXICO), ACTS OF SEDITION
July 28, 2007 at 7pm with: ATTITUDE ADJUSTMENT (Reunion), ELDOPA, REAGAN SS (Los Angeles), LA PIOVRA (ITALY)