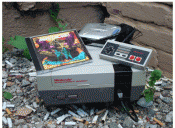 Later this month, the indubitable dudes from Mustache will be releasing their new album. The record is titled Babes Say the Hottest Things and is due out July 24, 2007.
To celebrate this in the most appropriate way possible, the band has put together a classic Nintendo package complete with the great Excitebike, a new CD Walkman and copy of the new album. It's all perfectly reasonable if you understand Mustache, and you will once you check out a few songs like this one: "I Got a (Mustache!)."
You can find the rules and particulars right here.