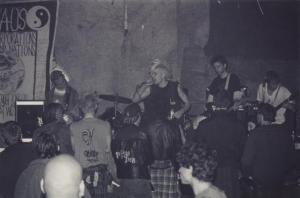 80s era East Bay punk band Christ On Parade has expanded their reunion tour past the previously announced shows at 924 Gilman. The band will travel up and down the US west coast later this summer, with several Los Angeles are shows still to be announced for August.
Christ On Parade formed in 1985 by ex members of Teenage Warning and Treason, comprised of vocalist Barrie Evans, guitarists Mike Scott and Noah Landis, bassist Malcolm Sherwood and drummer Todd Kramer. They released their debut Sounds of Nature that year. Members of the group lived in Easy Bay's storied New Method Warehouse and the group played shows with bands like Social Distortion, Subhumans, Agnostic Front, the Circle Jerks and Conflict. They disbanded in 1989, with Landis going on to join Neurosis and Evans forming psychobilly group the Hellbillys.
Sounds of Nature was recently re-released with bonus material via Neurot Recordings (CD) and Prank Records (LP).
| DATE | VENUE | CITY | WITH |
| --- | --- | --- | --- |
| 07/27/2007 | Berkeley , CA | 924 Gilman | With Final Conflict / Look Back And Laugh / Bumbklaat / Acts Of Sedition |
| 07/28/2007 | Berkeley , CA | 924 Gilman | With Attitude Adjustment / El Dopa / Reagan SS / La Piovra ( Italy) |
| 08/02/2007 | San Francisco , CA | Annie's Social Club | With Born/Dead, Annihilation Time 21+ |
| 08/03/2007 | Portland, OR | Satyricon | TBA |
| 08/04/2007 | Tacoma, WA | Hell's Kitchen (Afternoon All Ages Show) | With Jesus Fucking Christ , Durango 95 / Gypsies |
| 08/04/2007 | Tacoma, WA | Hell's Kitchen (Evening Show 21+) | With Toe Tag (Ex-Accused) / Jesus Fucking Christ / The Fakies |
| 08/05/2007 | Seattle, WA | The Funhouse (Early Show) | W/ Lesbian, Nothing Left, Jesus Fucking Christ |
| 08/09/2007 | Los Angeles Area (Hollywood, Long Beach, Orange County) | TBA | TBA |
| 08/10/2007 | Los Angeles Area (Hollywood, Long Beach, Orange County) | TBA | TBA |
| 08/11/2007 | Hollywood, CA | Knitting Factory | TBA |
| 08/12/2007 | Los Angeles Area (Hollywood, Long Beach, Orange County) | TBA | TBA |
| 08/18/2007 | San Francisco, CA | Bottom Of The Hill | With Adt. Monster Squad |