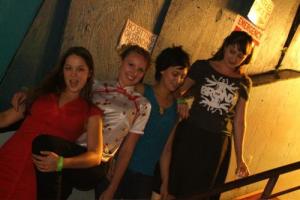 Oakland's Hot Toddies have sugary sweet melodies, even if sometimes their words are the kind of drrrty you'd like to hide from your parents. They'll be releasing their Asian Man debut on September 11th and you can preview the whole thing here at the Org.
Check out tracks like "Anais Nin vs. The Pirates of Santa Cruz," "Photosynthesis," and "Ocean" for a taste of their sound. It mixes dance beats, sugary sweety melodies, simple acoustic strumming and a seriously quirky sense of humor.
Stream Smell The Mitten by the Hot Toddies at their Punknews.org Band Profile.