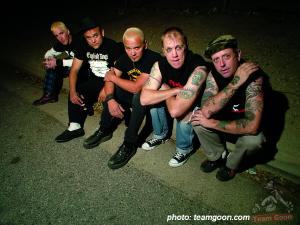 Today we've got an interview with long-running punk band, D.I.. The band features ex-Adolescents and Social Distortion drummer Casey Royer on vocals. Royer formed the group after he and Rikk Agnew left that band. The band formed in 1982 and has features a frequently changing lineup including former members of The Adolescents and Social Distortion (including the Angew brothers Rikk and Alfie).
The interview was conducted by Ariana Rodriguez. The band talks about their past, their new album, On the Western Front and being covered by Slayer on Undisputed Attitude.
There is a very tight association with D.I. and your former band, the Adolescents. The two bands have shared band mates and even song sets. Where does this closeness come from?
Casey: We're not trying to sellout or anything, we've always just been friends. It has never a business; it's just been an underground punk rock vibe. We have never grown apart, and have always just been happy being semi-popular. We never thought we were going to be successful, and now kids from this generation still love the music and we're still kids in our own head so it just keeps perpetuating in a very strange way.
What makes D.I. different from the Adolescents?
Casey: Besides the singer being totally different style, …I don't know, we're kind of from the same mold. Everyone that's in D.I. was around when I was in the Adolescents. We all grew up together, so we're pretty much the same­- just different faces.
There have been many significant events in D.I.'s career, the first being appearing in the 1984 film, "Suburbia." Tell me about that experience:
Casey: We were just playing a gig and then Penelope Spheeris (the director) came up and said she was making a movie and asked if we wanted to be in it. So we said yeah and just showed up. We went down there and started filming the scene. It was at Godzilla's, a private club in L.A. and we filmed all the footage there.
What about Slayer doing covers of your songs?
Casey: Kerry King, Slayer's guitarist has always been a punk rocker at heart and he's the one that asked to do it for (their album) "Undisputed Attitude." I think it was awesome cause these metalers thought that punkers were cool. You know, metalers are kind of arrogant and just to hear them be like 'yeah, Dr. Know and D.I.'- that was surprising. Even though punk wasn't big, we knew that we were coming correct with being honest about everything: brutally honest. I always knew that it would come back in a positive way and it did.
People were a lot more unfamiliar with punk rock when it started and everybody was freaked out. The hippies wanted to beat us up and everybody thought we were just junkies or fags
Monster Garage?
Casey: Oh, that was cool! That was so great! We found out that D.I. is Jesse James' favorite band and I couldn't believe that! I thought that was awesome. We were on the show and it was great cause there were flying midgets and we got to play Jesse's birthday party. In fact when you watch Monster Garage, you could hear 'Johnny's Got a Problem" in the background. They painted our guitars for us, so we were really stoked. They're really cool dudes; just like us but with different faces, again. We're really honored to have that happen.
The members of D.I. have been in the scene for a long time, what are some major changes you've seen?
Casey: People were a lot more unfamiliar with punk rock when it started and everybody was freaked out. The hippies wanted to beat us up and everybody thought we were just junkies or fags. It was more of a challenge to have green hair and now if you look around everyone has green hair so just the social context has changed greatly cause it was just a new fad then and now it's more understood. It's just more mainstream and it's just gayer now than it's ever been.
Eddie: I've seen punk rock become marketable. Back when I was young I actually didn't think I'd live it to be this old. We were just large and in charge, y'know charge and forward march. Anything was possible, anything went. These days, I've seen bands come back. It's coming back around to how it used to be but it'll never be what it used to be. But it's here and it's a fuckin' movement!
Joey: The change that's really interesting to see is the young kids. There are so many Hot Topics and the kids are into punk rock. It wasn't so mainstream back then and you had to go to Black Hole Records to actually access it, but now with MySpace and punk in the malls with the Hot Topic stores, it's a lot more accessible and has gotten a lot more commercial but there's still a lot of crazy kids out there that wanna tear it up so it's definitely a different crowd. It's a different scene with all the younger kids wanting a piece of the old action.
Chckn: Punk rock hasn't really changed, I think the people that listen to punk rock have changed. It's a dynamic that no one could've seen coming. A lot of people whine 'oh, punks not what it used to be'' - of course not, stupid your fuckin' face isn't the same, either! Nothing is ever the same, ever. So, sure a lot of it has gotten commercialized but so what- that happens. We play shows and see little kids 12 years old, singing the lyrics to our songs. It's fuckin great! I don't get it when people complain. They should go turn metal or something, get the fuck outta here!
Clinton: It's kind of come full circle. I was into it as a kid. It never really faded out but it's more mainstream now which is good and bad. Good for bands like us cause kids that are younger can be exposed to our music. Anyone can access the Internet and listen to our songs without having to go to a record store. They can watch a video. Basically see the whole thing without even being there and make his own choice on whether he wants to take it or not.The negative side would be the over saturation. Everybody's in a band.
Is Punk Dead?
Casey: No way! I've been in two major movies about punk in the past year: "Punk's Not Dead" and "American Hardcore."
Eddie: Well, we've always been here! We haven't gone anywhere. People would consider punk dead cause everyone grew out their hair and started wearing flannels, but it just migrated into different scenes. That's what people do. It's changed.
Tell me about the new members of D.I.
Casey: We've just always been friends from the neighborhood and Eddie and Joey Tater lived down the street. Everyone from D.I. went to the same high school as me. Eddie and Joey went to the same jr. high school so we go back to about the 6th grade. When I was in Social Distortion and the Adolescents, Eddie and Joey would always go the gigs or house parties, so everyone that's in D.I. was there all the time, no matter if they were in the band or not. They know everyone that ever was in D.I. In fact, Brad and Louis of the Kottonmouth Kings used to be in a band called "Doggystyle" back when we were all kids. Brad used to live down the street from me, too. We were all hanging around since way back. Everyone in D.I. knows Brad and Louis from back then. They used to live in Placentia and we lived in Fullerton. So yeah we all went to the same high school, except for Chickenhead he got kicked out and had to go to continuation. We all went to Troy High School. Since day one, we'd all hand out. We'd have parties and set up Social Distortion right in people's living room.
To the newest members of D.I., when did you officially join D.I. and how has the experience been so far?
Eddie: Late 2001, but I go way back. I'd jump in to play for D.I. throughout the years but it's been more constant over the past couple of years up until this point. The experience has been exhilarating.
Clinton: I've been in the band since 2001.
Joey: I've been in the band for about 3 ½ years. It's been great. It's strange to see the resurgence of kids wanting to hear punk rock from Orange County punk. It's really popular again.
Chckn: I was in D.I. back in 1998 and played a few shows with them and then I rejoined in early 2000. The experience is a blast. I'm in D.I., a band that I've loved since I was a kid. It's a natural progression of things to go from hanging out with them to being in the band.
What was it about D.I. besides your friendship with Casey that made you want to join?
Eddie: I've been in the punk scene for about 23 years and D.I.'s always been a great part of the punk rock movement, a pillar in the punk rock community. I grew up with D.I., I've been around D.I. a lot and it's just in my blood. So to be a part of that in a different phase of the line up is really great. It seems right. We're bringing it all back home to the members of Fullerton, to those that were a part of the early punk rock scene.
Joey: Casey and I had been in and out of bands and we went to the same high school back in the early punk days. We did it then and now we get a chance to do it again. It's a different year, and the musicianship- we've all gotten tighter so the shows are really fun to play. We're all Fullertonians that have sort of kept D.I. alive in the old style way.
Chckn: Casey and I have worked really hard to put D.I. back in a position where we could play a lot and the current lineup clicks really good. Eddie writes great lyrics and Casey and I write really well together. It's working out really good and happy with how things are going.
Clinton: The music. I was a big DI fan before I joined the band.
Chickenhead,… how did you get your nickname?
Chckn: Oh, I got that name when I was like 19 or 20. We used to play drunk punk rock baseball in the park and I used to have these Mohawks. I was too drunk to hit the ball. I kept swinging and missing it and then someone yelled, "hit the ball you fuckin chickenheaded motherfucker!" I used to hate it but now I'm kind of partial to it.
Tell me about the new album.
Eddie: It's been a lot of work forthcoming. I think the writing a record was sort of challenging. D.I. has a certain profile and anyone can write music but some of these songs I wrote quite some time ago. I had a whole memoir of songs and when I got together with Casey and started to come up with choruses to songs, everything just fell into place.
Joey: This new record sounds very 80s-esque. Eddie, my brother did a lot of the writing and it sounds like these songs are from that time frame and it wasn't such a big change to hear.
Chckn: D.I. turned up the temp! One thing I was really disappointed with bands from our era, I mean I love them, they're great friends but it just seems like I've been disappointed with their latest releases, they sounds tired and kind of nice. That's why it took us so long to release this record. We're really picky, we're not just gonna release anything and just be like 'well they'll love it cause its us.' I wanted to make sure it was heavy and angry. Just being pissed off, 'fuck you' punk rock!
Clinton: We tried to capture the old sound of D.I. with new songs. We stayed true to D.I. without trying to be overproduced or change the format of the band.
What was the record inspired by?
Casey: It's just a persecution of the modern California citizen. Similar to communism, our political state has become a little invading on everyone's privacy and we feel that it's not a free country if you're just being persecuted and searched for no reason. The prison system doesn't care about anybody. They get money for just holding bodies. They're just trying to get their dough so they're trying to get people in trouble so it's a hypocritical system and this album just tries to combat that unfairness.
How is the new album different from previous ones?
Casey: I think it just sounds the same, pretty much. That's who we are, and that's all we know how to do, is be ourselves! It just seems that now we have the obligation and the ability to make some pertinent comments about society because we're role models now. There's a lot of people that are going to listening to us, so I think we were able to go over the edge a little and talk about things that are a little more controversial now like prison reform. We have the ability to bitch more and that's fun.
Joey: Each song has a story and it sounds like vintage Orange County punk rock but obviously from the year 2007. I like that it has that feel to it. That early sound had a lot of harmonics; even the Offspring uses a lot of harmonics when they play. The songs are pretty diverse, every one's is very well thought out. It's catchy, it's got something for that young skater punk today and it also has that heavy feel. It has something for everybody. There's a lot of stuff people can grab onto.
How long did it take to work on the record?
Casey: It took a few years cause we wanted every song to be perfect and let every one in the band agree cause it's important that everyone give their input. It took a while but it's definitely the best album put out by D.I. and I'm really excited about it.
How has your experience been as part of the Suburban Noize family and how is it different from other labels?
Casey: We're a family of different sounding music but we're closer than labels that have music from the same genre. It's great. Hed Pe and Mondo Generator are excellent bands. It's a total brotherhood. It's great to be on this label.
Eddie: Hooking up with Suburban Noize was great and talking with Brad X, I've known Brad for years. I remember him from early early days in Placentia when he was with "Doggystyle" which was a great band. Brad has always been Brad X. He's bad! So hooking this new CD up with Suburban Noize was great for a number of reasons. Brad's one of us so that's really cool. It's not just gonna go to some random label that doesn't know anything about us. Brad actually is a part of the punk rock movement, has been for years and he has our best intentions at hand. We totally trust him and it brings it full circle for us, having someone that knows who we are and what we're about that's dealing with us.
Joey: The time in the studio was the smoothest time I've ever had. I loved it. We recorded in many different locations, over a period of a year and a half. It's always stressful in the studio so it depends on whom you work with that'll make it go smoothly or not.
Clinton: Working in the studio was awesome. We've known Brad for a long time so it was a comfortable situation.
Chckn: Brad was a fuckin kook just like he is now! We ended up backing KMK during a show and one thing led to another! Nothing personal, but labels like BYO- it just seems like that's where punk bands go to die, a punk rock cemetery. It's a trip cause it's two musical cultures and it proves that good things can happen when you put your mind to it.