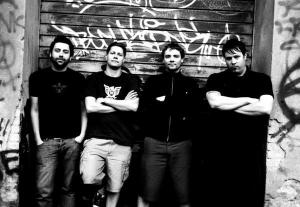 Calgary's This Is A Standoff has posted the cover art and track listing for their upcoming full length. The record is titled Be Excited and is due out October 9, 2007.
The band features Steve Rawles and Graham Churchill of much loved and now defunct skate punk act Belvedere along with John Meloche from Forty Cent Fix and Corey Tapp of Deville and Inventing The Wheel.
This Is a Standoff has two songs from the album online streaming at MySpace. You can check out the tracks "You Won't Pass" and "Where I Can't Be Heard."
Better Than All Of Us
You Won't Pass
Where I Can't Be Heard
An Admission
There's A LIttle Lemoncello In Everyone
Silvio
Underwater
Climb The Ladder
Fashion Faux Pas
Affliction
My Baby Makes Me Watch The Notebook
Dream Beater