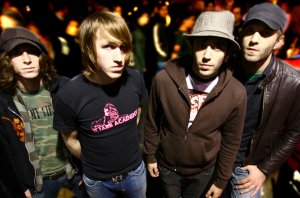 Chicago, Illinois' Spitalfield has announced their breakup.
The message came via a MySpace blog posting as well as bulletin. While the band were vague about their reasoning, they did say, "This choice has been one of the hardest things any of us have ever gone through, as the decision has absolutely nothing to do with a lack of passion for making music together or love for each other."
The band has also unveiled some of the dates for their final tour. Joining them for a good majority of it will be Ludo, the Graduate and lablemates the Forecast.
Over the course of their existence, the band released four full–lengths, the last three of which came via Victory Records: 2001's Faster Crashes Harder (Sinister), 2003's Remember Right Now, 2005's Stop Doing Bad Things and last year's final effort, Better Than Knowing Where You Are. Their discography also included a split 12" in 2000 with Don't Worry About It (Walk in Cold) and 2002's Cloak & Dagger Club EP (Sinister).
| DATE | VENUE | DETAILS | CITY, STATE |
| --- | --- | --- | --- |
| Nov 8 | THE PICADOR | (w/The Forecast, The Graduate & Ludo) | Iowa City, Iowa |
| Nov 9 | COLLEGE OF DUPAGE | (final 630 show!) | Glen Ellyn, Illinois |
| Nov 10 | DOWNTOWN | (w/The Forecast, The Graduate & Ludo) | West Lafayette, Indiana |
| Nov 11 | POP'S | (w/The Forecast, The Graduate & Ludo) | Sauget, Illinois |
| Nov 13 | TBA | | Albuquerque, New Mexico |
| Nov 14 | THAT ONE PLACE | (w/The Forecast, The Graduate & Ludo) | Phoenix, Arizona |
| Nov 15 | THE KNITTING FACTORY | (w/The Forecast, The Graduate & Ludo) | Hollywood, California |
| Nov 17 | AVALON THEATER | (w/The Forecast, The Graduate & Ludo) | Salt Lake City, Utah |
| Nov 18 | THE BLACK SHEEP | (w/The Forecast, The Graduate & Ludo) | Colorado Springs, Colorado |
| Nov 19 | MARQUIS THEATER | (w/The Forecast, The Graduate & Ludo) | Denver, Colorado |
| Nov 20 | THE ROCK | (w/The Forecast, The Graduate & Ludo) | Papillion, Nebraska |
| Nov 21 | THE BOTTLENECK | (w/The Forecast, The Graduate & Ludo) | Lawrence, Kansas |
| Nov 28 | THE LOFT | (w/The Forecast, The Graduate & Attention) | Madison, Wisconsin |
| Nov 29 | THE CANOPY CLUB | | Urbana, Illinois |
| Nov 30 | HEADLINERS | (w/The Forecast, The Graduate & Attention) | Toledo, Ohio |
| Dec 1 | THE GROG SHOP | (w/The Forecast, The Graduate & Attention) | Cleveland Heights, Ohio |
| Dec 8 | XTREME WHEELZ | (w/The Forecast, The Graduate & Attention) | Buffalo, New York |