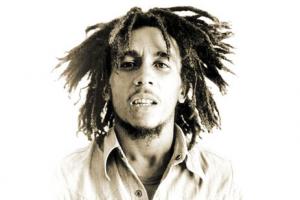 Legendary reggae musician Bob Marley is currently at the center of a legal battle between his family, Universal Music Group and Verizon Wireless.
Last month, Verizon Wireless paid an undisclosed sum to license Marley's music for use in ringtones The Marley family threatened to sue arguing that deal implies an endorsement of Verizon by the late singer. Verizon pulled the ringtones and then, after statements from Island founder Chris Blackwell, resumed selling the ringtones. The result is some serious animosity from the Marley family and Blackwell who note:

I am infuriated that Verizon would go around the estate and initiate partnership with Universal Music Group. We cannot and will not allow Bob Marley's name and likeness to be used in such a manner without the authorization of the family.
The case is also notable since it will force courts to determine whether the use of an artist's image consistutes an endorsement with the Marley family and Blackwell claiming it does while Universal claiming it does not.
The use of legendary musicians in advertising, even after their deaths is an increasingly controversial situation. Earlier this year, Doc Martens fired an advertising agency after they used Kurt Cobain, Joe Strummer, Joey Ramone and Sid Vicious in an advertising campaign.