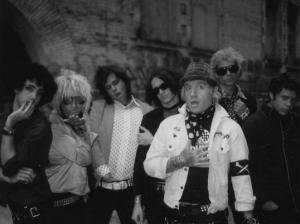 The River City Rebels have posted the cover art and track listing for their first new album in three years, Keepsake Of Luck, being released September 25th on Springman Records' side–label Silver Sprocket.
The album is available now for mail–order from the Springman Records website and comes with a free poster.
The band will be supporting the album with a national USA tour kicking off on the release date.
1. Bright Rays
2. Farmhouse Blues
3. All The Flowers
4. Nothing Makes You Hard
5. Im Here
6. Keepsake Of Luck
7. Call It Back
8. Few More Than You
9. Lost In
10. Sick Kids
11. Ive Seen
12. Hopeful Romantic
13. Icons And Rosaries
14. Letter In Transit
15. Bright Side
16. Little To Offer
| | | | |
| --- | --- | --- | --- |
| Sep 25 2007 | 6:30 | newbery comics | w.lebanon, New Hampshire |
| Sep 27 2007 | 8:00 | Ralph's Chadwick Square Diner Rock Club | WORCESTER, Massachusetts |
| Sep 28 2007 | 8:00 | bennington college | bennington, Vermont |
| Sep 29 2007 | 8:00 | The Annex | New York |
| Sep 30 2007 | 3:00 | 1327 Sabattus St. | Lewiston, Maine |
| Oct 5 2007 | 9:00 | Jimmy's seaside | stamford CT |
| Oct 6 2007 | 8:00 | Cafe Metropolis | Wilkes-Barre, Pennsylvania |
| Oct 7 2007 | 7:00 | Michalina's Bistro | Buffalo, New York |
| Oct 8 2007 | 8:00 | Red Parrot Cafe | Lorain, Ohio |
| Oct 9 2007 | 8:00 | High Five | Columbus |
| Oct 10 2007 | 8:00 | Mac's Bar | Lansing, Michigan |
| Oct 11 2007 | 8:00 | Frankie's | Toledo, Ohio |
| Oct 12 2007 | 8:00 | Reggie's Live | Chicago, Illinois |
| Oct 13 2007 | 8:00 | Creepy Crawl | St Louis, Missouri |
| Oct 14 2007 | 8:00 | Black Sheep Cafe | Springfield, Illinois |
| Oct 15 2007 | 8:00 | 1123 Club | Evansville, Indiana |
| Oct 16 2007 | 8:00 | Swayze's | Marietta, Georgia |
| Oct 17 2007 | 7:00 | Thee Imperial | Jacksonville, Florida |
| Oct 18 2007 | 8:00 | 1982 Bar | Gainesville, Florida |
| Oct 19 2007 | 8:00 | Ground Zero 3059 Howard st. Spartanburg SC 29302 | Spartanburg, South Carolina |
| Oct 20 2007 | 8:00 | Lucky's Pub | Wilmington, North Carolina |
| Oct 21 2007 | 8:00 | The Milestone | Charlotte, North Carolina |
| Oct 22 2007 | 9:00 | The Brewery | Raleigh, North Carolina |
| Oct 23 2007 | 7:00 | Championship Records | Lemoyne, Pennsylvania |
| Oct 24 2007 | 7:00 | Westmont Grove | johnstown, Pennsylvania |
| Oct 25 2007 | 7:00 | metro art gallery | Baltimor, Maryland |
| Oct 26 2007 | 7:00 | Hightstown American Legion (Festival of the Dead 10) | East Windsor, New Jersey |
| Oct 27 2007 | 7:00 | welfare records | haverhill, Massachusetts |
| Oct 28 2007 | 8:00 | Mainstage | Pompton Lakes, New Jersey |
| Nov 2 2007 | 7:00 | Redmens Hall | Johnstown, New York |
| Nov 24 2007 | | webster Theater | hardford, Connecticut |