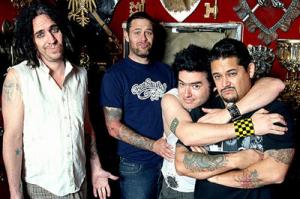 NOFX has posted the artwork and a release date for their upcoming live album. The disc will be the second live album from the veteran punk act, with the previous, I Heard They Suck Live, released nearly twelve years ago. The new record is titled They've Actually Gotten Worse Live and is due out November 20, 2007
Though no track listing has been released, the album is culled from three nights of talking mixed with the occasional song at Slim's in San Francisco and will not include any material from Suck Live but will include new versions of old songs and rare tracks.
They released Wolves in Wolves' Clothing in 2006.