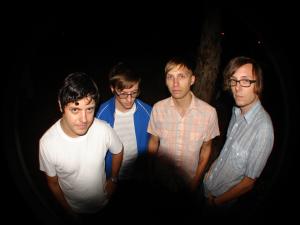 Bullet Train To Vegas are "putting [it] on the shelf" for the time being. In a short explanation posted earlier members outlined their feelings on the band's status and the difficulties of touring at this stage in their existence.

We are not officially breaking up. Everyone at this juncture in the band is at different points in their lives. When you devote 3 years of your life to touring and don't see the band getting any bigger than when it started, its time to take a step back. Realistically we've really gotten to the point where touring has become an impossibilty. We can no longer tour the way we have so many times in the past. And without the support of bigger tours and/or a record label, it doesn't seem likely we'll be hitting the road anytime soon. The demand just isn't there, and the offers certainly aren't pouring in.
We interviewed the band late last year after their departure from Nitro Records and the release of their 2005 album We Put Scissors Where Our Mouths Are. That album was preceded by their 2004 This Bed's Meant For Two 7" and 2003's Profile This.
The band made no mention of the status of what was to be their second LP, The City And None Of The Above.