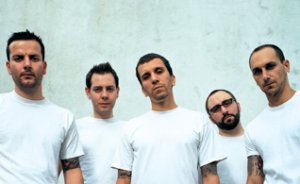 Influential hardcore act Snapcase have added a second show to their upcoming reunion/benefit performance for Callum Robbins. The shows take place November 24 and 25th at The Music Hall of Williamsburg in Brooklyn, New York, and are being billed as "The Anti–Matter Anthology: A Book Release Concert & Benefit for Callum Robbins." Rounding out the bill will be 108 and Triple Threat.
Tickets for both shows go on sale this Friday, October 5 at 12 PM (EST) at Ticketmaster. The beneficiary of the show will be Callum Robbins, the son of J. Robbins (Jawbox). Cal was diagnosed with Spinal Muscular Atrophy last year and there has been support from many friends of the Robbins' with the most recent including a sold–out Dismemberment Plan reunion and a 31–track compilation featuring songs from Jawbreaker, Mission of Burma and many others.
Hosting this show is Norman Brannon (from Texas is the Reason), who along with supporting this great cause is also celebrating the release of his first book The Anti–Matter Anthology. The Anthology, which will be released on Nov. 6 via Revelation Books, is a collection of interviews from Norman's much–loved Anti–Matter zine from the mid–'90s, as well as a handful of other interviews he conducted for Alternative Press & VIBE during the same time period. Among the bands represented in the anthology are Rage Against The Machine, Quicksand, Ressurection, Lifetime, Sick Of It All, Snapcase, Jawbox, Rancid and many more.