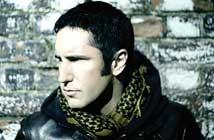 Nine Inch Nails has parted ways with their label. The band has proven a thorn in the side of their major label for the past few years, leaking their own material, publicly admonishing them and encouraging fans to download their records. Frontman/mastermind Trent Reznor made the announcement today:

I've waited a LONG time to be able to make the following announcement: as of right now Nine Inch Nails is a totally free agent, free of any recording contract with any label.

I have been under recording contracts for 18 years and have watched the business radically mutate from one thing to something inherently very different and it gives me great pleasure to be able to finally have a direct relationship with the audience as I see fit and appropriate. Look for some announcements in the near future regarding 2008. Exciting times, indeed.
Just last week, another band of similar stature decided to take the free agent "direct relationship" route. Radiohead opted to release their new record directly. With these high profile bands taking the independent route, it remains to be seen what kind of influence they will have on the music industry as a whole.