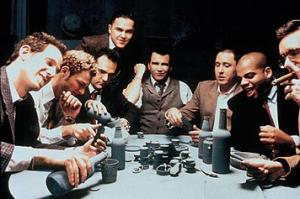 While they denied comment on previous rumours about a reunion, The Mighty Mighty Bosstones have promised that there will be a "major announcement" today on Boston radio.
According to a bulletin the band sent out, the announcement will be made on WBCN Radio at 12:00PM. You can listen live via the link on the top left of WBCN.com.
Update (12:08pm) Dicky is on the radio now. The band is promising shows for five days on the nights following Christmas. They "may be doing other shows" but Dicky explained that they split up because they didn't want to spend so much time on the road. Confirmed right now are shows at The Middle East Club in Cambridge, MA on December 26, 27,28,29, & 30.
Tickets will be available here starting October 19th.
Update (12:15pm) The station is airing a live performance recorded at the Middle East right now.