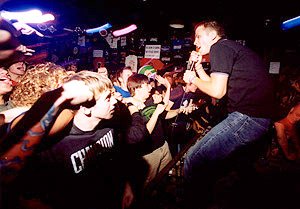 Critically acclaimed hardcore act Suicide File has announced a one–off reunion show on December 15th at Reggie's Rock Club in Chicago. It will begin at 2pm and also feature The Killer, Blacklisted, Ringworm, Turmoil, Damnation AD, Regret and related band, The Hope Conspiracy.
Tickets will go on sale at 6pm CST tonight via this page. Formed in April of 2001 by former members of Death By Stereo and The Hope Conspiracy. The Boston, MA–based band recorded only an EP and a full length but remains highly influential and often cited in connection with rock'n'roll–based hardcore popularized by bands like The Bronx.
The band has two albums available, the sole full length, Twilight, and the EP/rarities compilation, Some Mistakes You Never Stop Paying For.