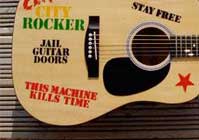 Legendary folk/punk Billy Bragg may have us all anxiously waiting a new album, but he hasn't been taking it easy. In the past month he was presented with the 2007 Classic Songwriter award at Britain's biggest and most respected music event, the Q Awards. Previous winners have included Elton John and Oasis' Noel Gallagher. During the event, he spoke about his latest charity endeavour. Called Jail Guitar Doors, which aims to provide musical instruments for rehabilitation work in British prisons.
The following day, Bragg visited his old school in east London in support of Love Music, Hate Racism, a campaign created in response to evidence of record levels of racist incidents in British schools. Bragg spoke of his early involvement in Rock Against Racism, and emphasized how each generation is called upon to confront discrimination in all forms.
If that wasn't enough for a single day, that evening, Bragg attended a gala performance at the Royal Festival Hall in London. The Queen was there to preside over the re–opening of the newly refurbished arts center, and the evening culminated in what is essentially collaboration between Bragg and Beethoven: a performance of the fourth movement of Beethoven's Ninth Symphony, replete with lyrics penned by Bragg, written to commemorate the re–opening. The Queen requested a signed copy of the final score from Bragg who kindly obliged her.
A new record is expected in early 2008.