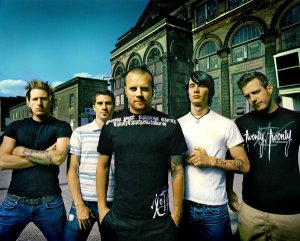 Epitaph has announced the signing of Story of the Year. Epitaph boss Brett Gurewitz commented on the signing:

From my first time seeing Story of the Year light up the stage of the tiny Troubadour club like a torch, to soon thereafter seeing them light up every TV screen across America, I always regretted that I hadn't come across them just a little sooner and perhaps have had the chance to sign them, All I can say is I'm finally redeemed! This is a very big deal for Epitaph.
The popular band released two albums on Maverick Records, 2005's In the Wake of Determination and 2003's Page Avenue. The band's Epitaph debut will see a reunion with Page Avenue producer and Goldfinger frontman John Feldman as well as Elvis Baskette (Chevelle, Escape the Fate).
The debut is set for release in Spring 2008.