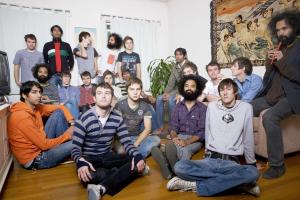 Though their last break–up announcement was later reclassified as a "hiatus," word has come down that the split is for good now. The band explained:

After 10 years of making music as The Blood Brothers, we have made the collective decision that our time together has come to an end. We feel extremely fortunate to have spent such a deeply memorable and amazing part of our lives with each other. At this point, however, we feel it's best that our futures move forward on separate paths.

We'd like to express our sincerest thanks and gratitude to all the bands we've played with, individuals who have helped us make our records, and fans who have come to our shows and picked up our music throughout the years. Your friendship, support and love hold such a profoundly special place in each of our hearts. We hope that the memories you attach to our music are as fond as those you have given us. Thank you and take care, we'll miss all of you.
The band found themselves label–less when their former label, V2, was all but shut down in January. The last album the band released was 2006's Young Machetes.
Punknews.org has interviewed the band three times over the years, in 2003, 2004 and finally in 2006.