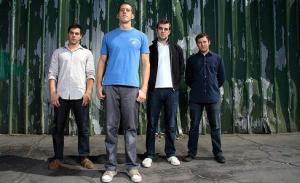 Paint It Black has announced a release date and posted the first track from their upcoming third album. The record is titled New Lexicon and is due out February 19, 2008. You can check out the artwork on the release page.
The vinyl will be handled by Rivalry Records under exclusive license from Jade Tree. The 12" is set to be released the same day as the compact disc version.
The album was produced by J. Robbins and Oktopus (of Dälek). The first song, can be found here: "Past Tense, Future Perfect."
Paint It Black - New Lexicon
The Ledge
Four Deadly Venoms
We Will Not
Past Tense, Future Perfect
Missionary Position
White Kids Dying of Hunger
Gravity Wins
Dead Precedents
The Beekeeper
Check Yr Math
So Much for Honour Among Thieves
New Folk Song
Saccharine
Severance
Shell Game Redux