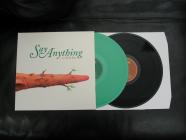 You're the lucky reader of the 20th edition of the Punknews.org Vinyl File. This column aims to keep you informed with upcoming releases as well as spotlighting interesting releases, your favorite band's own collections and labels with an history of vinyl releases worth talking about. As always, Vinyl File is brought to you by Ben Conoley.
Vinyl File continues to be presented in a no–frills fashion until after the holidays. While we may not be posting much in the way of news until then, keep checking back weekly for features. I'll point you over to the Vinyl Collective message board if you're looking to talk vinyl with someone, as there's a whole lot of conversation on the go all the time. However, please do read the full story or your chance to win some very cool stuff from some very cool people.
This week Vinyl File is coming at you with an interview with Kyle Gebhart of Doghouse Records. Doghouse recently released one of their most acclaimed albums, …Is a Real Boy by Say Anything, and we wanted to talk to him about that. We also discussed The Get Up Kids and other Doghouse releases.
THE PUNKNEWS.ORG VINYL FILE
While we're not really reporting vinyl news this week, there are a few worthwhile bits of information we want to pass along. First on our list of exciting things to mention is that PunkNews along with Vagrant Records want to give you a chance to win an out of print GREEN vinyl copy of The Bled's latest album, Silent Treatment. Green copies were only available for those who pre-ordered the album, but the fine folks at Vagrant have found three more copies laying around. So here's the deal, the first three people to email ben (at) punknews (dot) org with their name and address along with the answer to the following skill testing question will win a copy for free.
Your skill-testing question: What city does The Bled collectively call home?
If you want a chance to win more great stuff, here's your opportunity. Our good friends at Dead Format want to give two lucky folks a rejected test-pressing of mewithoutYou's 2004 album Catch For Us The Foxes. Head over to Dead Format to win and dig through their extensive vinyl pressing information. It's hours of fun. Literally.
VINYL FILE SPOTLIGHT
Tell me a little bit about yourself and how you got involved with Doghouse.
I'm from Cincinnati, and when in college at Bowling Green State University, I interned at the Lumberjack Distribution / Doghouse offices in Toledo, OH. After graduation, Doghouse was hiring for new positions as the office moved to NY, so the timing worked out pretty well for me.
Are we ever going to see Get Up Kids reissues?
Actually, probably yes. Doing vinyl reissues of The Get Up Kids albums on Doghouse is something we're considering for next year.
The label has a history of releasing bands just before they explode - to what do you attribute this? -There's definitely a lot of factors that go into something like that. However, having A&R that has a good idea of where music is going and what we should sign is what helps us out the best. Before we get onto …Is a Real Boy, what are some other albums that have been a highlight for you to be associated with?
We have had some cool vinyl come through the label. The vinyl version of The All-American Rejects Move Along was pretty neat since it was gatefold, hand-numbered, limited to 1,000 copies, and on heavyweight colored vinyl with 500 of them containing an exclusive 7". Also, we helped market and distribute Ben Weasel and His Iron String Quartet. These Ones are Bitter on Edmond Records. That came out on 4 different colors and was fun to work with something related to Screeching Weasel.
…Is a Real Boy seemed to immediately be heralded as a classic. When you first heard it did what did you feel?
I thought it was good because it was something pretty different at the time. It's sometimes hard to throw anything that's not too cookie-cutter at the pop-punk/emo world and get some kind of reaction. So, I'm really glad it's done so well. I know for a lot of people it's opened their eyes up to a much bigger world of music.
Three years after the fact with the album having established itself as a crucial part of anyone's independent music collection, what are your feelings on it?
People all over the place seem to love this record. It's pretty good at covering a lot of ground between kids in the worlds of punk, emo, and even indie rock. Even the Music Director at my college radio station loved it. He liked stuff like Bonnie 'Prince' Billy and Sufjan Stevens, but also owned a Say Anything hoodie.
When did the idea to reissue …Is a Real Boy start to surface?
After the …Is a Real Boy/Was a Real CD version came out on J Records, it made a lot of since for us to want to release a vinyl version of that. It just took awhile for it to kind of come together. But, it was nice to have it come out the same time as the new record, plus at a time when more and more kids are getting into vinyl collecting.
Why did you decide to include …Was a Real Boy with the reissue?
The Is a Real Boy/Was a Real Boy 2xLP on Doghouse Records is essentially the vinyl version of the J Records 2xCD reissue of the original album. So, it's kind of a reissue of a reissue, but with the exclusive vinyl track 'Walk Through Hell,' it's the most complete version of the album containing more songs than any other version.
Doghouse has done some pretty limited and largely coveted vinyl releases - was this something you knew you would do with the reissue from the get-go?
Not necessarily. It's sometimes really hard to tell how well something is going to sell, so it's usually better to low-ball how many copies you want to press, especially since vinyl is pretty expensive to manufacture. There's not a lot of pressing plants in the U.S. anymore, so we actually get ours made in the Czech Republic. This makes the cost of shipping a bit more as well. So, when releases do pretty well, and we sell out of them, that ends up being just how it goes. We try to either press more copies or do a reissue down the road to try to keep as much stuff in print as possible. As far as the Say Anything reissue goes, we'll try to keep it in print as long as there's demand. The next pressing could just be on black vinyl to try to keep the first one special…or something completely different.
Why did you decide to go with the color scheme you went with?
Our Product Manager Adam Rubenstein decided most of the layout/color scheme. The first record is on black vinyl since side A and B contain most of the original album. We thought it would be good to keep that on traditional black vinyl due to rumors I always hear that the quality of colored vinyl is inferior to black vinyl (this may or may not be true). Sides C & D contain the last 2 tracks from the original release ('I Want to Know Your Plans' and 'Admit It!!!') but the rest are the …Was a Real Boy EP + 'Walk Through Hell,' so we thought it would be fun to do on green vinyl since that matches the rest of the album artwork. I really like the way it came out.
Do you have plans for any of the other albums in your back catalogue to be re-issued?
Yes! We're re-issuing both Chamberlain full-lengths (Fates Got a Driver and The Moon My Saddle) on one 2xLP release. It will also have never before released bonus stuff, rarities, plus biographies and interviews. Previously mentitoned product manager, Adam Rubenstein was the guitarist in Chamberlain, and now he's the one who gets to put it together. I can't say yet, but there's likely to be some other pretty exciting vinyl stuff coming out as well.
What are some other projects you have recently put out are are going to be releasing that you are excited about?
The main thing we're working on now is the Jet Lag Gemini Fire the Cannons album coming out January 22. We also have a new Cruiserweight album coming out in March of 2008. There's some other cool stuff in the works, but not finalized yet.