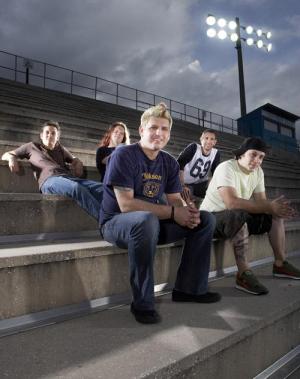 Less Than Jake have announced the formation of their own label. The band spoke to CMJ about the project which will begin by releasing their back catalogue as well as a new album.
Among the reissues planned are Goodbye Blue & White, Pezcore, The People's History of Less Than Jake and Losers, Kings & Things We Don't Understand on March 18th.
Drummer/lyricist Vinnie Fiorello noted:

When you are in a pop punk band in your 16th year, sometimes you don't fit in the modern music industry. You need to be a shiny new penny. We didn't feel like the rest of our years as a band should fit in that narrow parameter.
According to Vinnie, Warner Bros. was "cool enough" to let the band go, according to Fiorello, even though they had one more album left in their contract. The band hopes to eventually have full ownership of their complete back catalog, but are still working on a number of records. The first new release on the label will be their ninth studio album to date, which the band will start recording in March.
Vinnie also touched on the new album, which sounds like it may be a gift for longtime fans:

All I do know is that we're writing songs now and they seem to have the spirit of a tempo in mind, all very speedy but once we hit the record button they may be slower. [We're] looking to combine third wave ska and pop punk in each song.
You can check out the story here.